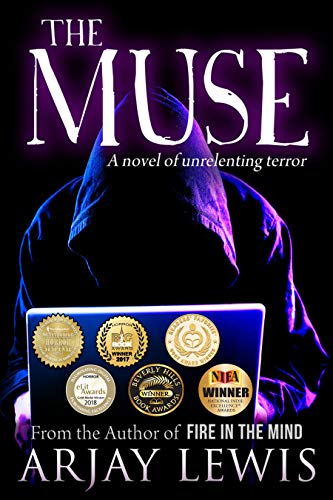 The Muse: A Novel of Unrelenting Terror
By Arjay Lewis
$3.99
(Please be sure to check book prices before buying as prices are subject to change)
His pen and his sword are both mighty. When he loses his inspiration, he'll drench the town in blood to get it back.

Hugely successful horror author Jack Court has a chilling secret. When he's not writing bestsellers, he murders the innocent to satisfy the twisted whims of a symbiotic creature who lives within him. But after a sheriff out for justice chases him into the path of an oncoming car, the beast escapes the writer's injured body in search of another host…

Harry Godwine's words have never supported his family the way he knows they deserve. Just when he's given up hope, he suddenly receives inspiration from something new inside of him. Harry's unexpected success may just mean a new life for the ones he loves, as long as he can ignore the unfamiliar internal voice and the endless dreams of blood…

Without the symbiont to maintain his vitality, Jack becomes something different. Something not quite human. Something that's willing to kill anyone in his path to reunite with the creature who will help him fulfill his darkest desires…

The Muse is a standalone horror thriller that's bound to give you nightmares. If you like supernatural suspense, chilling creatures, and dark plots come to life, then you'll love Arjay Lewis' award-winning nail-biter of a novel.
Digital Books

Book Length: Long Novel – 320-650 Pages
Leave a review about The Muse: A Novel of Unrelenting Terror. Login Now