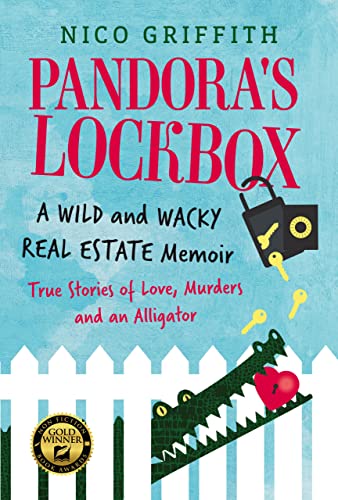 Pandora's Lockbox
By Nico Griffith
$5.99
(Please be sure to check book prices before buying as prices are subject to change)
She signed up to sell homes for the rich and famous.
She didn't realize they'd be mobsters, murderers, and mad hatters.

Nico Griffith buried her sadness under a gritty work ethic. Stunned when her husband of two decades requested a divorce for Mother's Day, the nearly broke and newly single woman shook off the shock and dove into the heartless job market. Finding a fit for her maverick personality in the wacky world of real estate, she never imagined she'd become a sympathetic ear for clients to confess their deeds of love… and murder.

Changing names to protect the guilty, Nico Griffith has crafted a laugh-out-loud memoir that contains surprising insights into the tough grind of professional real estate. And as this true-life dark comedy unfolds, you'll delight in the stream of absurdities while cheering for the hapless star and her agent sisterhood known as the Fab Five.

In Pandora's Lockbox, you'll be enthralled by:
A frightening backyard confrontation with a sharp-toothed, fifteen-foot-long pet
A homicidal Southern belle's sobbing request to be led away in handcuffs
A chance encounter with a captivating Texan whose love would change Nico's life forever
The new girl without a car who came up on aggressive flashers, oodles of loose snakes, and would-be-killers while chasing leads
Tequila-fueled, after-hours anecdotes, an endless whirlwind of intrigue and romance, mind-bending client calls from behind bars, and much, much more!

Pandora's Lockbox is one woman's tell-all account of an award-winning career in real estate. If you like determined heroines, jaw-dropping surprises, and underdog success stories, then you'll adore Nico Griffith's educational entertainment.
Digital Books

Book Length: Novel – 150-320 Pages
Leave a review about Pandora's Lockbox. Login Now