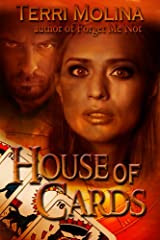 House of Cards
By Terri Molina
$3.99
(Please be sure to check book prices before buying as prices are subject to change)
"I think he's going to kill me."

A frantic phone call from her estranged sister sends Jesse Peña rushing home to Brownsville, Texas, only to find that Alicia –seven months pregnant– has vanished. Jesse is convinced her brother-in-law, Marcus Vega, is a killer but getting the police to listen isn't easy, especially when Marcus announces that Jesse and her sister are borderline schizophrenic.

Detective Michael Cisneros is reluctant to believe Jesse's allegation. After all, Marcus Vega is a prominent citizen with a tight alibi, and this isn't the first time she's charged him with murder. When Michael is accused of allowing a personal relationship with her to cloud his judgment, he is forced to accept what Jesse cannot--Marcus Vega is innocent. Jesse's refusal to give up will risk more than her life, it will test her sanity as well.
Digital Books

Book Length: Novel – 150-320 Pages
More Books in this series from Terri Molina
Write a review about House of Cards. Login Now

Terri Molina

Coffee Time Romance & More 5.0 out of 5 stars HOUSE OF CARDS~ I love reading this story. I enjoy the ups and downs, even the frustration and irritation at Jessie's impatience. The characters are vivid and have some heft to them. Jessie's impulsiveness and high strung personality is tempered by Michael's steadiness and persistence to do things the right way. I would recommend this story for someone who wants to read a really good mystery, with some romance and suspense thrown in. Llaph Reviewer

Like Comment
Leave a review about House of Cards. Login Now