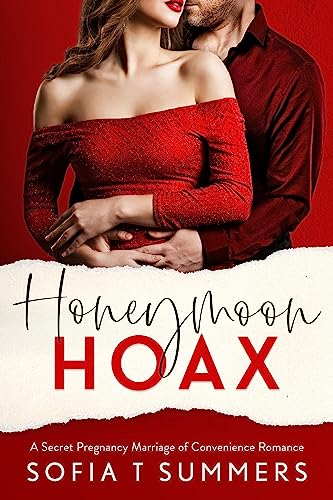 Honeymoon Hoax
$4.99
(Please be sure to check book prices before buying as prices are subject to change)
I lost it all… but I won't lose him. I'll make sure of it.
All it took was one wrong step and my life came crumbling down. I'll forever remember what my husband said to me before I lost consciousness from the fall…
It's over.
When I wake up in the hospital, Noah is a changed man - caring, kind and loving. So I do what I have to do… and pretend I have amnesia. 
But I'll also find out the real reason he wanted to leave me.
And worst of all… I'll find out if he still wants to end our marriage.
Yet throughout my recovery, Noah remains the perfect, handsome gentleman who I fell in love with… Until something happens that will change our lives forever.
A pregnancy… again.
Except sooner or later, he's going to find out the truth - I lied.
But I only did it because I still love him and our family. Even if he doesn't love us.
Digital Books

Book Length: Novel – 150-320 Pages
Leave a review about Honeymoon Hoax. Login Now