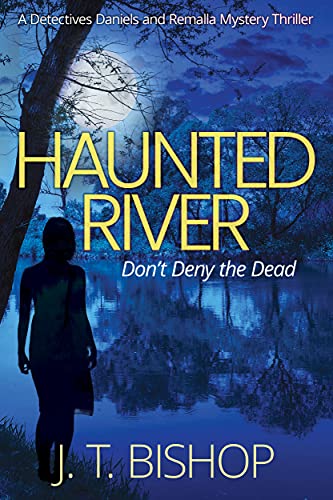 Haunted River: A Murder Mystery Suspense Thriller (Detectives Daniels and Remalla Book 1)
By J. T. Bishop
$3.99
(Please be sure to check book prices before buying as prices are subject to change)
Don't Deny the Dead
A woman, clad only in a white nightgown, is dead - her body discovered on the banks of Black River. Her unsolved murder, and her ghost, still haunt the small town where she lived and died.

Twenty-five years later, Detective Gordon Daniels inherits his estranged grandfather's home on the property where the body was found. Anxious to sell it, Daniels invites his partner, Detective Aaron Remalla to help him clean it out and enjoy some time off from their high-pressure job. But their getaway is interrupted when a second woman's body is found on the river, clad in a white nightgown, and they are unwittingly thrown them into an investigation they would prefer to avoid.

Their scrutiny of the nearby town uncovers colorful suspects, including a cranky elderly woman and her entitled grandson, two fortune-telling sisters, a paranormal-investigating sheriff, a drifter with a dubious past and Daniels' own grandfather. As strange occurrences, frightening dreams, and spectral encounters stack up, Detectives Daniels and Remalla are forced to confront the town's ghosts and will uncover a sinister secret so shocking that someone is prepared to kill to keep it hidden.

Can the specters of the past help them find a killer before the killer gets to them first?

Haunted River is the first book in the Detectives Daniels and Remalla series. It follows the events of the Family or Foe saga where the detectives make their first appearance, but Haunted River can be read on its own.

If you love a heart-stopping murder mystery ghost story, a riveting supernatural thriller whodunit, and an engaging and charismatic partnership between two detectives, then enjoy Haunted River.


Digital Books

ASIN:
B08HY1KL8P
ISBN:
978-1732553163
Book Length: Long Novel – 320-650 Pages
Leave a review about Haunted River: A Murder Mystery Suspense Thriller (Detectives Daniels and Remalla Book 1). Login Now