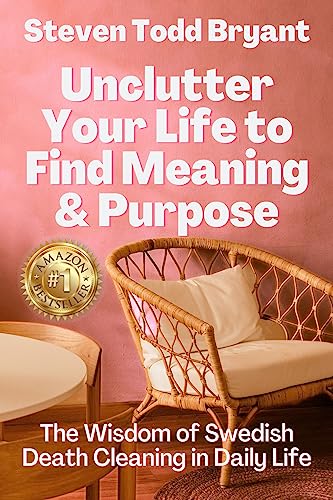 Unclutter Your Life to Find Meaning & Purpose: The Wisdom of Swedish Death Cleaning in Daily Life
Amazon Best Seller
$2.99
(Please be sure to check book prices before buying as prices are subject to change)
Unclutter Your Living Space, Heart, Mind, and Soul

"If you want to change your life, you have to do something different."

Unlock the Power of Swedish Death Cleaning
Are you tired of living in a cluttered mess? Is your heart weighed down by what you have accumulated over the years? Do you long for a simpler, more fulfilling life? Look no further! In "Unclutter Your Life to Find Meaning & Purpose: The Wisdom of Swedish Death Cleaning in Daily Life," you will discover the transformative secrets to uncluttering your living space, heart, mind, and soul.

Practical Solutions for Everyday Life
This practical and transformative guidebook takes inspiration from the profound wisdom of Swedish Death Cleaning, offering you the seven essential steps to decluttering and simplifying your life. No matter your age or stage in life, this guide will be your roadmap to a clutter-free existence where you can focus on what truly matters.

Embrace Freedom and Renewed Focus
Explore the profound impact that purchasing, owning, and maintaining material possessions can have on your long-term physical, emotional, and financial well-being. Say goodbye to the burden of materialism and welcome a life of profound simplicity. Learn how to let go of your attachment to things, freeing up your energy, time, and space. Experience the power of living fully in the present moment, cultivating gratitude for what you already possess.

A Soul-Stirring Journey
Prepare for a soul-stirring journey of self-reflection and personal growth. Explore your true identity, uncover your life's purpose, and tap into your core values. This guidebook seamlessly blends practicality with profound insights, empowering you to declutter not just physically but also mentally, spiritually, and emotionally. Discover the life-changing concept that everything is temporary. Dive deep into the transformative principles of gratitude, minimalism, mindfulness, and self-compassion.

Best-Selling Author
Discover the wisdom of best-selling author Steven Todd Bryant, whose previous book, "The Toxic Family Solution," changed the way we think about unhealthy relationships. The author shares how his own brush with death transformed his life and led him to uncover the principles that can help you realize your greatest potential.

Start Living Your Best Life Today!
Don't wait until it's too late to unclutter your life and find meaning and purpose. Take the first step towards a more peaceful, spacious, organized, intentional, and fulfilling life. Read the free sample now and unlock the key to living your best life. Buy "Unclutter Your Life to Find Meaning & Purpose: The Wisdom of Swedish Death Cleaning in Daily Life" and embark on your transformative journey starting today!
Digital Books

Book Length: Novel – 150-320 Pages
Leave a review about Unclutter Your Life to Find Meaning & Purpose: The Wisdom of Swedish Death Cleaning in Daily Life. Login Now