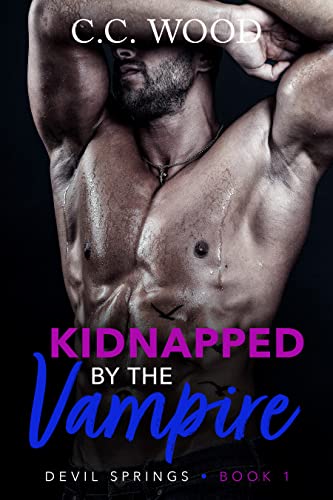 Kidnapped by the Vampire (Devil Springs Book 1)
By C.C. Wood
$3.99
(Please be sure to check book prices before buying as prices are subject to change)
When my great-aunt died, she left me her home and business in Devil Springs. The last thing I expected when I came to sell them was to meet an actual vampire–who happened to be the most beautiful man I've ever seen.

Or that he would kidnap me.

At first, I was desperate to escape but, the longer I was the vampire's hostage, the less he seemed like a villain. Especially when he made sure I had anything and everything I needed and protected me from anyone who tried to hurt me. Even when I was doing my best to be the most annoying kidnapee on the planet.

The mouthier I became, the more he seemed to like it. He absolutely shouldn't be boyfriend material, but the longer I was stuck living with him, the more I wanted exactly that.

But there are secrets in the town of Devil Springs and some supernatural residents aren't as excited to have a human in their midst. In fact, one of them seems to want me gone…permanently.
Digital Books

Book Length: Novel – 150-320 Pages
Leave a review about Kidnapped by the Vampire (Devil Springs Book 1). Login Now