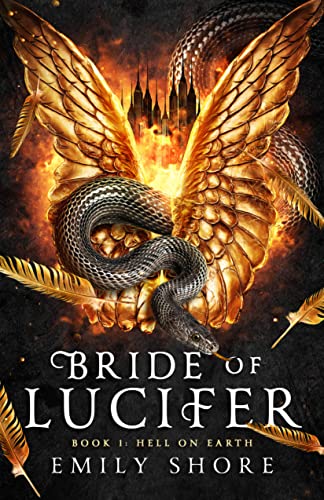 Bride of Lucifer
By Emily Shore
$1.99
(Please be sure to check book prices before buying as prices are subject to change)
"I'm the angel in her. She's the devil in me." ~Lucifer

A little angel flew to Hell on Earth. And fell for the Devil...

After opening Hell on Earth, a Vegas-on-steroids tourist empire, Lucifer hosts the Bride Trials.

Astraea, a sweet but psycho angel finds herself bound to the Devil after her failure to kill him. She never imagined she'd end up Lucifer's spy, solving murders in the midst of a multi-race war. With the aid of a sentient snake, Astraea follows the murder trail to a female Dracula, a wingless angel Diviner, the high Demon of Lust, and ultimately into the heart of the Bride Trials.

To free herself from Lucifer and end the war, Astraea must conquer the Bride Trials, survive the wedding, and kill the Devil on the honeymoon.

Unless she falls for him first...

From bestselling Kindle Vella Author, Emily Shore comes a sinful and sexy hate-to-love affair starring a badass heroine and the original broody bad boy perfect for fans of the ultimate angels and demons forbidden romance.

*With the ultimate villain, readers will fall in love with this sizzling futuristic fantasy where you will never want to leave Hell on Earth and might just sell your soul to Lucifer himself.

*Bride of Lucifer was divided into a two-book set. Book one features the world, plot, and characters of Hell on Earth while book two features the Bride Trials. More sizzling encounters and high-stakes battles to follow in the sequels. Crossover series coming in October/2023.
Digital Books

Book Length: Long Novel – 320-650 Pages
Leave a review about Bride of Lucifer. Login Now