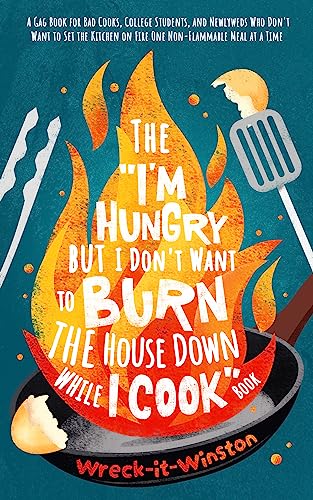 The "I'm Hungry but I Don't Want to Burn the House Down While I Cook" Book
By Wreck-it- Winston
$0.99
(Please be sure to check book prices before buying as prices are subject to change)
Are you constantly plagued by a rumbling stomach, but cower at the mere thought of lighting the stove? Do smoke detectors spontaneously go off when you reach for a frying pan? Are takeout companies on speed dial and yet, your wallet is weeping? If so, Wreck-it-Winston's revolutionary new guide is just for you!

"The 'I'm Hungry but I Don't Want to Burn the House Down While I Cook' Book" is a delightful, easy-to-navigate manual tailored to those who may not have a sterling track record when it comes to fire-free food preparation. This book is your guide to navigating the kitchen battlefield without the usual smoke signals!

Wreck-it-Winston, with his unique blend of humor and practical advice, offers tips and tricks to transform your fearful culinary encounters into enjoyable kitchen escapades. This guide is perfect for:

Beginner cooks
Busy college students on a budget
Newlyweds who are quickly realizing the limitations of microwave dinners
Each chapter aims to enhance your kitchen confidence, guiding you through:

Safely popping popcorn in your microwave without a miniature explosion
Preparing a palatable spaghetti bolognese without turning your saucepan into a relic of a forgotten fire
This book is not just about recipes; it's about empowering you to command your kitchen space fearlessly and safely.
So, come one, come all to the anti-Heatwave gastronomic parade! Discover that the kitchen is less of a battleground and more of a playground. Equip yourself with "The 'I'm Hungry but I Don't Want to Burn the House Down While I Cook' Book" and convert your culinary catastrophes into delicious triumphs. It's time to retire your fire extinguisher and set your appetite on fire instead!
Digital Books

Book Length: Short Story – 0-60 Pages
Leave a review about The "I'm Hungry but I Don't Want to Burn the House Down While I Cook" Book. Login Now