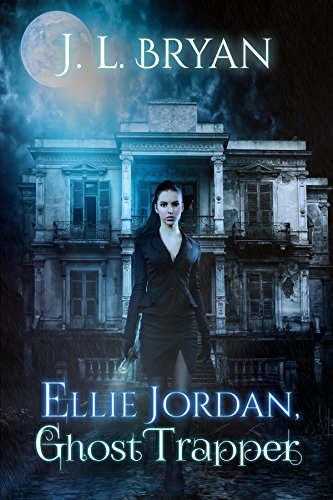 Ellie Jordan, Ghost Trapper
By JL Bryan
$0.99
(Please be sure to check book prices before buying as prices are subject to change)
Paranormal investigator Ellie Jordan kicks ghosts out of haunted houses. Her tools include historical research, modern technology, plenty of courage, and a dash of psychology.

Ellie's not so sure about her new assistant, a recent film school graduate named Stacey with a knack for capturing images of apparitions and phantoms, but she's training her on the job as they investigate a crumbling centuries-old mansion in Savannah, Georgia. The owners are a struggling family desperate for help with a disturbing supernatural presence that terrifies them and prevents them from restoring the historic home. Dangerous spirits from the house's sordid past will test Ellie and Stacey's ability to work together, confront evil, and defeat the darkness that resides within.

Thousands of readers have enjoyed the fun, spooky adventures of the Ellie Jordan series, with a new mystery in every book!

Comments from readers on Amazon:

"Superb writing, excellent world building, and a fabulous story! The author writes in such a way that you can really picture what is going on and immerse yourself; I found myself tensing up often!"

"I was pleasantly surprised by this novel! It was a good read, start to finish. The main character was believable and smart, I loved the no-nonsense "scientific" approach to the investigations, I appreciated that neither woman was prone to bouts of helplessness or stupidity (sensible moments, like checking a pocket to be sure she had an item, or not running off alone, make all the difference to me.) The writing was solid, the story was interesting. I fully intend to read more in this series."

"If you like a plot twister and a little mystery mixed in with your haunts then give this one a read. J L Bryan's writing had me hooked from the beginning. I liked the humor mixed with the danger of very unhappy evil spirits."

"If you like your cozy mysteries on the spooky side, this book is for you."

"I got the first three books for free. Have bought every other book so far. The writing is excellent, the building of suspense, the pacing, the characters are fully dimensional. There is fear and horror in every book so masterfully written that they are impossible to put down! Each one has been as good as the first, if not better. The backstory and friendship of the characters are entirely realistic."
Digital Books

Book Length: Novel – 150-320 Pages
Leave a review about Ellie Jordan, Ghost Trapper. Login Now