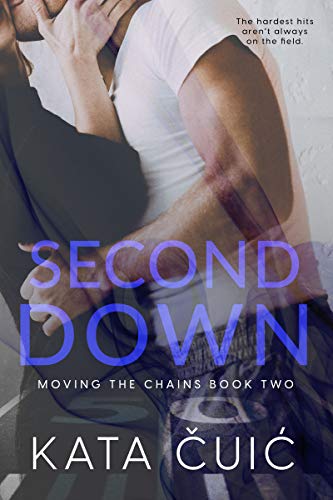 Second Down (Moving the Chains Book 2)
$3.99

(Please be sure to check book prices before buying as prices are subject to change)

---
The hardest hits aren't always on the field.

She doesn't remember the best and worst day of her life.
Eva Papageorgiou has no memory of the brutal attack she suffered at the hands of her would-be rapist—the last few days of her life wiped away completely. But the scars she bares hint at the trauma she endured.
She feels powerless and alone, no longer able to trust her own mind. The only certainty in her life is that everything is different. Until a friend reveals a secret, filling the holes of her memory.
Now Eva is determined to reclaim her life and her control over it.
The day he dreamed of was the one that cost him everything.
Rob Falls is stuck in a perpetual nightmare, unable to move past the horrific event that changed his and Eva's lives forever. While friends and family urge him to overcome the tragedy, he withdraws, consumed with guilt and regret no one else—not even Eva—understands.
He may never earn the redemption he longs for, but he vows to help her feel safe once again.
Now Rob will do whatever he can to protect the girl he loves from anyone who might hurt her—even himself.
Eva longs to remember.
Rob wishes he could forget.
Even after everything that has come between them, they're still drawn together.
Can two damaged souls build a future even as the secrets of the past carve new scars?
Read More...
---
---

© 2022 CraveBooks. All rights reserved