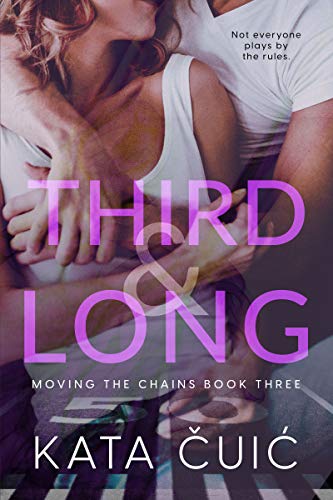 Third and Long (Moving the Chains Book 3)
By Kata Čuić
$3.99
(Please be sure to check book prices before buying as prices are subject to change)
Not everyone plays by the rules.
Eva Papageorgiou has it all: the popularity that always felt so elusive in high school, looks that men can't ignore, and a boyfriend that other women covet. She's gorgeous, powerful; she has the world at her fingertips.
And it's all a lie.
The problem with living a lie is how easy it is to forget who you're lying to. Eva's time to withdraw into the shadows has expired, courtesy of Rob's rising fame. Her only option is to hide in plain sight.
Amid all the chaos, Rob is her safe escape from it all. They continue to be stronger together than they ever could be on their own.
Until being together is what tears them apart.
Rob Falls has everything he's ever wanted: his dream girl, a winning team, respect from everyone. He's at the top of his game, with a Heisman nod on the horizon, and the potential to be a first-round draft pick.
And it's all crumbling before his eyes.
The mounting pressure of being an athlete at the next level while doing all he can to protect Eva takes its toll. He doesn't sleep enough, he worries constantly, and he's torn wanting to be in two places at once.
Rob never imagined the day he'd have to choose between fame and love.
Sometimes life makes choices for us.
With the game and their hearts on the line, will Rob and Eva keep their secrets hidden? Or will they reveal everything to each other, to themselves, to the world…only to lose it all?
Digital Books


Book Length: Long Novel – 320-650 Pages
More Books in this series from Kata Čuić
Leave a review about Third and Long (Moving the Chains Book 3). Login Now