Fourth and Inches (Moving the Chains Book 4)
Fourth and Inches (Moving the Chains Book 4)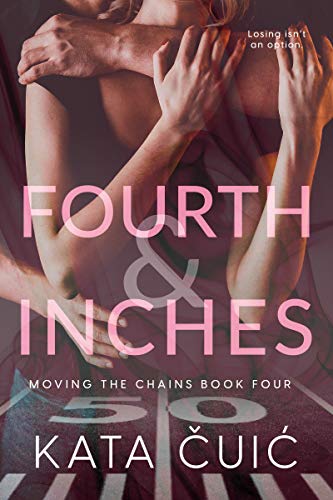 Fourth and Inches (Moving the Chains Book 4)
$3.99

(Please be sure to check book prices before buying as prices are subject to change)

---
Losing isn't an option.
Rob Falls's life is spiraling out of control. All his carefully made plans have been laid to waste. His friends aren't speaking to him; he's estranged from his family. Drafted to the worst team in the NFL, everything he's worked so hard for seems to be slipping away.
The only thing he's still sure of is that he needs Evie.
Eva Papageorgiou is lost. Once a driven, ambitious young woman, she's paying penance for all the wrong choices she's made. Stuck in a downward spiral, she craves a spark of hope to ignite the change she so desperately needs.
The only thing that hasn't faltered is her devotion to Rob.
Realizing they need to make changes to go the distance, they challenge each other to do and be better.
Rob knows that to fight for the woman of his dreams, he'll have to let go of his endless guilt and find a way to be the man she fell for years ago.
Eva understands that to reach their happily ever after, she needs to feel worthy of herself before she can fully accept Rob's love.
They make a pact to hold each other accountable.
The time frame? One year.
The deal? Get it together or walk away. For good.
On the line? Everything.
Read More...
---
---

© 2022 CraveBooks. All rights reserved