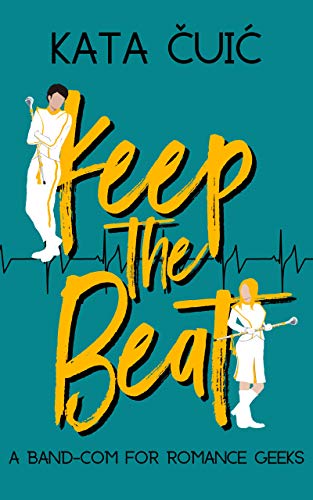 Keep the Beat: A Band-Com for Romance Geeks
By Kata Čuić
$3.99
(Please be sure to check book prices before buying as prices are subject to change)
Sophia Reston has never been bothered by the term band geek. The definition of geek is an enthusiast or expert in a particular field or activity. She loves marching band with all her heart, so the term is appropriate. Of course, one of the lesser known definitions of a geek is a carnival performer who is often billed as a wild man and whose act typically includes biting the head off a live chicken or snake. This definition also seems accurate since there is one snake Sophia fantasizes about maiming in the most deliciously torturous ways—her archnemesis, James Fossoway.
He has a stupid nickname, stupidly attractive muscles, a reputation for sleeping around, and he is a fellow band geek. Unfortunately for Sophia, he's also an enthusiast of pushing all her buttons—and not in a good way.
When their rivalry leads to one final showdown during the competition for head drum major, the entire band is invested in the outcome. And James has some new tricks up his sleeve to win the last battle they'll ever wage against each other.
Because, after years of pranks, James isn't out for revenge. He wants Sophia's heart.
Or maybe it's just another dumb challenge.
Digital Books


Book Length: Novel – 150-320 Pages
More Books in this series from Kata Čuić
Leave a review about Keep the Beat: A Band-Com for Romance Geeks. Login Now