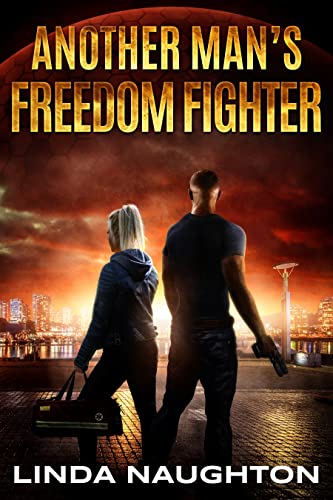 Another Man's Freedom Fighter: A Sci-Fi Political Thriller
$2.99
(Please be sure to check book prices before buying as prices are subject to change)
In a colony on the brink of revolution, one woman takes a stand against tyranny.

All her life, Caitlin Farland has watched the Mars Colony suffer under the oppressive heel of the Terran Federation. Every day, the demands for independence grow louder and more violent. Her father was one of those fighting for Mars' freedom before he was caught and locked away. Though her rebel sympathies run deep, Caitlin is reluctant to follow in his footsteps. She's a paramedic. Her job is to save lives, not take them.

When Federation Peacekeepers turn a peaceful rally into a bloodbath, Caitlin barely escapes alive. They blame the rebels for the massacre, but Caitlin knows the truth. In trying to expose the cover-up, she makes herself a target. The Federation sends ruthless counter-terrorism agent Jack Decker to bury the evidence—and her.

Forced to go on the run, Caitlin turns to her father's old friends for help. She finds an ally in resistance fighter Alex Garrison. Together, they must elude Decker and the Peacekeepers long enough to reveal the truth. And Caitlin has to decide how far she's willing to go to fight back against the Federation.
Digital Books

Book Length: Novel – 150-320 Pages
Leave a review about Another Man's Freedom Fighter: A Sci-Fi Political Thriller. Login Now