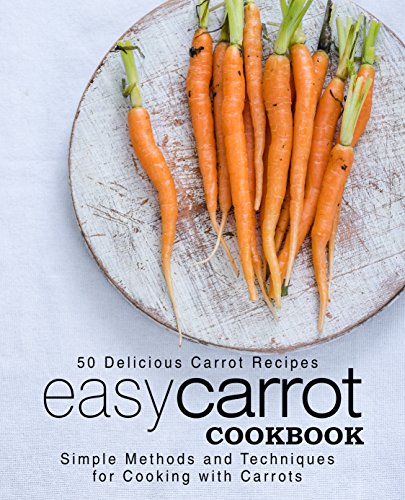 Easy Carrot Cookbook
By BookSumo Press
$2.99
(Please be sure to check book prices before buying as prices are subject to change)
Going Beyond Carrot Cakes.

Get your copy of the best and most unique Carrot recipes from BookSumo Press!

Come take a journey with us into the delights of easy cooking. The point of this cookbook and all our cookbooks is to exemplify the effortless nature of cooking simply.

In this book we focus on methods of cooking with Carrots. The Easy Carrot Cookbook is a complete set of simple but very unique Carrot recipes. You will find that even though the recipes are simple, the tastes are quite amazing.

So will you join us in an adventure of simple cooking?

Here is a Preview of the Carrot Recipes You Will Learn:
Backroad Canning Carrots
Hong Kong Carrot Vegetarian Dump Dinner
Peanut Honey Carrots
Lunch Box Almond and Cranberry Salad
Plums, Tomatoes, and Samosas (Indian Style)
Kale and Sweet Potato Stew
Spicy Carrot Paste
Vegan Zucchini (Tunisian Style)
Spicy Garbanzo Dip
Pistachio and Fig Tagine
North African Breakfast
Classical Lentils
Harissa Crab Bake
Carrots, Harissa, Peppers, Chicken, and Sausage Couscous
Much, much more!
Again remember these recipes are unique so be ready to try some new things. Also remember that the style of cooking used in this cookbook is effortless. So even though the recipes will be unique and great tasting, creating them will take minimal effort!
Digital Books

Book Length: Novella – 60-150 Pages
Leave a review about Easy Carrot Cookbook. Login Now