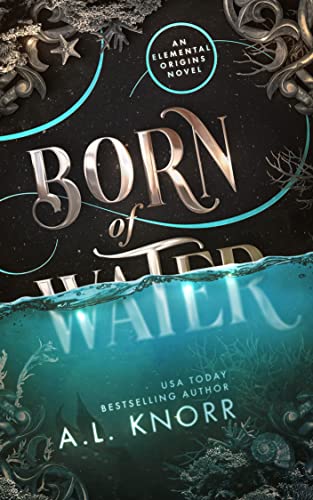 Born of Water: A Mermaid Fantasy and Elemental Origins Novel (The Elemental Origins Series Book 1)
By A.L. Knorr
$3.99
(Please be sure to check book prices before buying as prices are subject to change)
A mysterious shipwreck could
unlock ancient powers... or send her to a watery grave. 
Targa MacAuley feels more at home
on dry land than in the watery realm of her mermaid ancestors. After 17 years
on solid ground, she fears she'll never grow into the creature her mother hoped
she'd become. To keep her mom's homesickness and true identity under wraps,
Targa signs on for a mysterious salvage dive in the Baltic Sea. 
Her plan to blend in with the rest
of the crew is spoiled when she catches the eye of a handsome local fisherman.
A freak accident and a strange connection to the ancient shipwreck below
attract even more unwanted attention. With both her mom's secret—and her
life—in danger, Targa must finally find the courage to unleash the currents
surging deep within. 

Born of Water is the first
book in The Elemental Origins, a series of captivating YA urban fantasy novels.
If you like new twists on mermaid lore, simmering romance, and close-knit
mother daughter bonds, then you'll love A.L. Knorr's nautical adventure. Embark
on a deeper dive into the story's lore with The Wreck of Sybellen, a
companion novel included with the book. 
Buy Born of Water to submerge yourself in an enchanting coming-of-age
tale today.
Digital Books

ASIN:
B01MTVI0RV
ISBN:
1775067122
Book Length: Long Novel – 320-650 Pages
More Books in this series from A.L. Knorr
Leave a review about Born of Water: A Mermaid Fantasy and Elemental Origins Novel (The Elemental Origins Series Book 1). Login Now