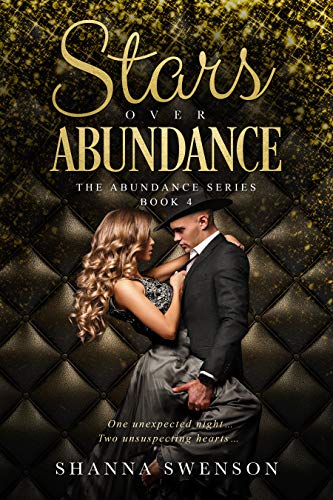 Stars over Abundance: The Abundance series: Book 4
$2.99
(Please be sure to check book prices before buying as prices are subject to change)
Vivian Alexander- Hollywood's Oscar-winning actress extraordinaire was "coerced" into coming to the Helping Heroes Ball by her manager, to make an appearance and save face after the interview that embarrassed her far more than she cares to admit. After all, she's good at hiding her true feelings behind the radiant smile that's made her famous. Well, she came, she saw, she made her appearance. Now it's time for a quick and inconspicuous exit…until she sees a familiar face she never imagined she would.
Buck Jenkins- Retired football player/gridiron legend/playboy comes to the ball; for it's a good cause, and being as he's not too far from Dallas and all he really can't pass up the opportunity— not when he's been MIA from the limelight as long as he has now. It's a good excuse to get out of town anyway, for a much-needed break from the grievous chaos ensuing his life at the moment. But he didn't see the bombshell blonde starlet coming until she was directly in front of him. Now, his night just made a surprising turn for the best.
One unexpected night...
Two unsuspecting hearts...
Their paths inescapably intertwine and neither will come out unscathed.
***
Book 4 in the Abundance series follows the story of a one-night stand that becomes so much more for two broken-hearted lovers. Get swept up and head back to Abundance, Texas once more as Buck and Vivian take your soul on a journey through heartbreak, tragedy, new beginnings, and perseverance. You'll be laughing, crying, and swooning for these two "stars" in Stars over Abundance.
Digital Books

Book Length: Novel – 150-320 Pages
More Books in this series from Shanna Swenson
Leave a review about Stars over Abundance: The Abundance series: Book 4. Login Now