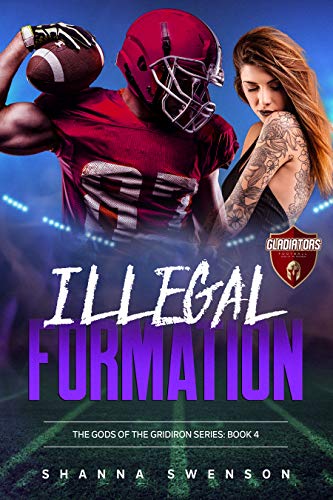 ILLEGAL FORMATION (Gods of the Gridiron Book 4)
$3.99
(Please be sure to check book prices before buying as prices are subject to change)
Hell hath no fury… especially if you're Hades—the god of death.
TE, Quillan Layton, is settling into his role as the newest player for the Gladiators. He's embracing his brooding and dark character's namesake. Hell, it's easy to be such when your life is as skewed as his is. After all, he's a single dad and the widower of a former drug addict who's not looking for love—not in the slightest.
Though when he sees bad girl, Veda Ryan, at Paxton's Halloween party, he might just be eating crow. This tattooed, pierced, and cynical Irish "snake-charmer" has more up her sleeve than ink, and one scorching hot night with her isn't quite enough to satisfy the ravenous god within just dying to be unleashed.
Veda, the sharp-tongued twin of Becca's, is an unhappy cheerleader, reluctant stripper, and passionate model-wannabe with a determination as strong as her colorfully art-clad skin. She sees the tall, dark, and delicious half-Spanish sex god, Quillan, and knows immediately that she has to sink her teeth into him, come Hell or highwater, and does so that fateful Samhain night in an ILLEGAL FORMATION of epic proportions.
But Quil and Veda are in for a rude awakening. The old saying goes that if one plays with fire, one is bound to get burned and burned these two lovers will be as they fight their sizzling attraction for one another tooth and nail.
Will a devastating secret be enough to bring them colliding together or will it doom Hades and his Persephone to a fiery pit of never-ending regret?
Digital Books


Book Length: Novel – 150-320 Pages
More Books in this series from Shanna Swenson
Leave a review about ILLEGAL FORMATION (Gods of the Gridiron Book 4). Login Now