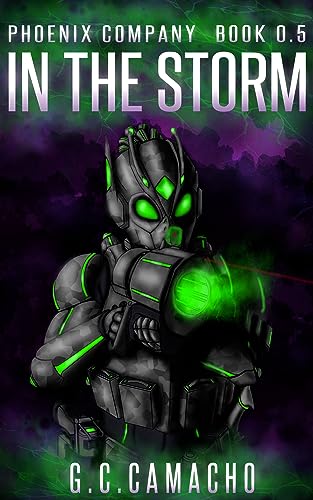 In The Storm (Phoenix Company Book 0.5)
By G.C. Camacho
Free
(Please be sure to check book prices before buying as prices are subject to change)
What seemed like a simple escort op turns into a deadly race against interstellar terrorists toying with illegal technology.

Once riding high on the wave of hard-fought victory, this band of lovable mercenary misfits is on a losing streak. A disgraced PAX knight, his bright-eyed armiger, an urchin from the megacity slums, and a wanderer searching for his family take a job with shady corporate agents in the lightless depths of Rax City. With details coming in on a need-to-know basis, the members of Phoenix Company have to improvise and watch each other's backs to get the job done. Or at least make it out alive.

Buckle in for a mysterious, high-stakes rollercoaster ride where things aren't what they seem.

A fun fantasy sci-fi adventure to keep you on the edge of your seat and lead directly into Inglorious Resurrection. This exciting episode in the early chapters of their saga gives a taste of what's to come in the upcoming .5 collections of novellas and short stories. In The Storm evokes some Guy Ritchie and Firefly vibes while the series is inspired by franchises such as Final Fantasy VII, Cowboy Bebop, Star Wars, Guardians of the Galaxy, StarCraft, Outlaw Star and more.

So dive into the exciting, new saga of Phoenix Company!

Content Warning: In The Storm explores some mature subject matter including violence, gore, profanity and struggles with PTSD and addiction. Reader discretion is advised.
Digital Books





Book Length: Novella – 60-150 Pages
Leave a review about In The Storm (Phoenix Company Book 0.5). Login Now