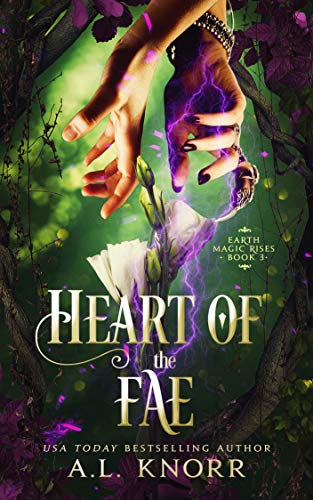 Heart of the Fae: A Young Adult Fantasy (Earth Magic Rises Book 3)
By A.L. Knorr
$4.99
(Please be sure to check book prices before buying as prices are subject to change)
Tricked into a slippery alliance, Georjie has no choice but
to trust the only being with enough power to stop the black witch. All she has
to do is lure Daracha to the right place at the right time using herself as
bait, and the formidable queen will do the rest.
Georjie gets a surprise visit she hopes will help her
uncover why her father left all those years ago, but uprooting the truth is
easier said than done. When her search leads her to unlock a secret message
from the fae realm instead, she learns the dark witch's life is inextricably
tied to the life of an innocent. If one dies, so does the other.
Faced with an impossible choice and not enough time to make
it, can Georjie make the deadline, save the innocent AND outwit the devastating
fiend who craves her ashes?
Heart of the Fae is the third book in the
thrilling Earth Magic Rises YA contemporary fantasy series. If
you like page-turning action, teenage heroes, and sinister plots, then you'll
love A.L. Knorr's riveting tale, complete with twists and turns you never saw
coming.
Digital Books

Book Length: Novel – 150-320 Pages
More Books in this series from A.L. Knorr
Leave a review about Heart of the Fae: A Young Adult Fantasy (Earth Magic Rises Book 3). Login Now