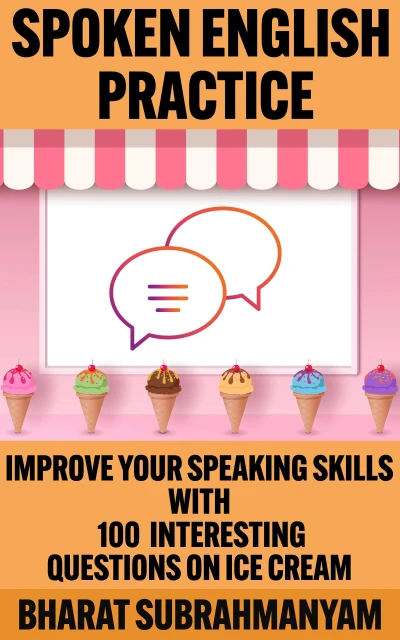 Spoken English Practice: Improve Your Speaking Skills With 100 Interesting Questions on Ice Cream
$0.99
(Please be sure to check book prices before buying as prices are subject to change)
Do you know one of the most effective ways to improve your Spoken English skills and build your confidence to interact with people around you?

The answer is practice!

How often do you feel that you have great ideas but are unable to express them in a clear manner?

This book is designed to help you practice your English-speaking skills with 100 interesting questions on the topic of 'Ice Cream' and will help you in the following ways:

You will have a large variety of questions to make you think and express your ideas and views on the topic.
Some of these questions are designed to help you think creatively and get prepared for those situations that you may face in your life where you need to express yourself in a more creative manner.
You can practice speaking English in a fun and interesting way with these questions, either by yourself or with family members or friends.

As a TESOL (Teaching English to Speakers of Other Languages) certified online Spoken English teacher, I have had the chance to interact with many students and conduct one-on-one and group sessions to help them become more fluent in English.

I have had the opportunity to help them overcome their fear of interacting with people in social situations, face interviews with confidence, and get prepared to take up their dream jobs.

By using the proven method of 'practice', this book aims to help you create a suitable environment for improving your English-speaking skills.

So, are you ready to start your journey to becoming a more effective speaker of English?

Go ahead and get your copy of this book and start practicing!
Digital Books






OverDrive
ASIN:
B0CG4LNM7C
ISBN:
978-93-5967-453-7
Book Length: Short Story – 0-60 Pages
Leave a review about Spoken English Practice: Improve Your Speaking Skills With 100 Interesting Questions on Ice Cream. Login Now