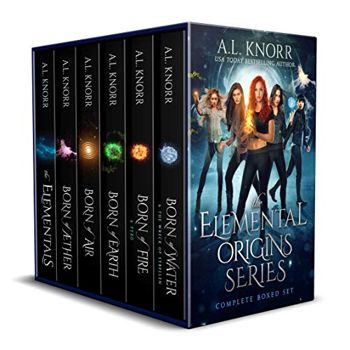 Elemental Origins: The Complete Series Bundle: (Water, Fire, Earth, Air, Aether, Ensemble Novel) (The Elemental Origins Series)
By A.L. Knorr
$9.99
(Please be sure to check book prices before buying as prices are subject to change)
Five teens reborn with powerful gifts. Now they must unite
their magic to win earth's most desperate campaign…
Six books and two companion stories. 2,000+ pages of
magical fantasy adventure.
Targa and her three best friends have no idea what their
summer vacations have in store. With each heading to a different far-flung
destination, they're sure to return with amazing tales. But their excitement
turns to dread when each girl transforms into a being with ancient powers…
As Targa taps into her mermaid ancestry, the other teens
embrace their supernatural destiny through fire magic, samurai spirits, and fae
curses. As they battle an age-old entity immune to their collective strength, a
mysterious fifth elemental is the only thing standing between victory and
obliteration.
Will the girls embrace their extraordinary fate to
protect the world from total annihilation?
Elemental Origins: The Complete Series is a
thrilling value-packed YA fantasy boxed set. Containing five full-length novels
following each character plus a sixth book that unites them all in an explosive
finale. If you like modern myths, fresh heroic characters, and page-turning
action, then you'll love USA Today Best-selling Author A.L. Knorr's superhuman
saga.
This bundle contains:
















Born of Water, The Wreck of Sybellen Diary
Excerpt, Born of Fire, Pyro, Born of Earth, Born of Aether, Born of Air, The
Elementals. No part of this boxed set is bonus content, all parts are necessary
for the story to make sense.

Digital Books

Book Length: Epic Novel – 650+ Pages
More Books in this series from A.L. Knorr
Leave a review about Elemental Origins: The Complete Series Bundle: (Water, Fire, Earth, Air, Aether, Ensemble Novel) (The Elemental Origins Series). Login Now