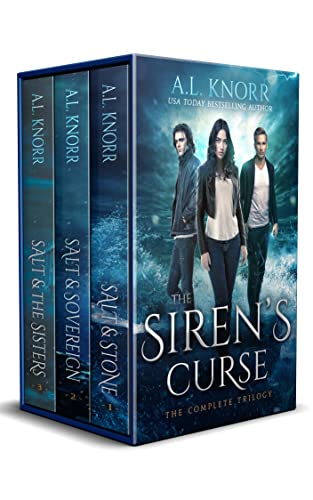 The Siren's Curse, Complete Trilogy: Salt & Stone, Salt & the Sovereign, Salt & the Sisters
By A.L. Knorr
$9.99
(Please be sure to check book prices before buying as prices are subject to change)
Under the sea lie the secrets
of her past… and a deadly threat to her future.
Targa fears the truth will lose
her the man she loves. As she returns to Poland to reunite with Antoni, she
wishes she could share her mermaid secrets without betraying her kind. But when
a magical stone goes missing from her museum, the siren may have to choose
between protecting her loved ones and treason.
As Targa tracks the stolen gem,
she discovers a sinister plot centuries in the making. And the power the
thieves seek could leave both the land and the sea utterly devastated. 
Can Targa protect the secrets of
her people, or will her attempt at a double life take everything she loves
away?
Digital Books

ASIN:
B0BLLTCHGG
ISBN:
1989338135
Book Length: Epic Novel – 650+ Pages
More Books in this series from A.L. Knorr
Leave a review about The Siren's Curse, Complete Trilogy: Salt & Stone, Salt & the Sovereign, Salt & the Sisters. Login Now