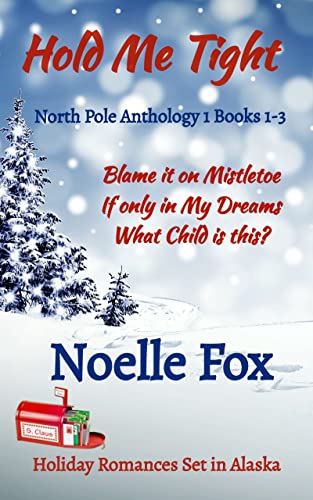 Hold Me Tight-North Pole Anthology 1
By Noelle Fox
$4.99
(Please be sure to check book prices before buying as prices are subject to change)
Lots of Kids write letters to Santa, but those delivered to the North Pole are answered by a group of dedicated volunteers who call themselves The Elves.

Blame It On Mistletoe
Abby Baxter has spent the year since her husband's death trying to hold on. When she discovers her son is missing, her entire world trembles—until her husband's best friend appears at her door. Secretly in love with Abby for years, Frank Machado is determined to see JD back in his mother's arms. Sparks fly, hearts warm, love—and Christmas—are in the air. Should they Blame it on Mistletoe?

If Only In My Dreams
Jilted in North Pole, Alaska, café owner Amelia Beckett's bad man-karma has struck again! She wants out of this cutesy town—until a snarling, injured fox in her backyard sends her running to strong, silent neighbor and café regular, Wes Curtis. Wes moved to Alaska after his wife died, not expecting he'd need to brush up admittedly rusty dating skills. But moonlit nights spent helping beautiful, skittish Amelia and the fox relax and heal make him determined to convince Amelia she belongs in Alaska—with him

What Child is This?
Hope Grayson's six-year-old daughter clearly wants a daddy for Christmas. Eli Thompson has never forgotten Hope, realizing just how much he's missed her. When he unexpectedly shows up to help in the clinic where she works, Hope is stunned. She wants to protect her daughter and her heart, but is it possible Eli is the perfect Christmas present for them both?
Digital Books

Book Length: Long Novel – 320-650 Pages
Leave a review about Hold Me Tight-North Pole Anthology 1. Login Now