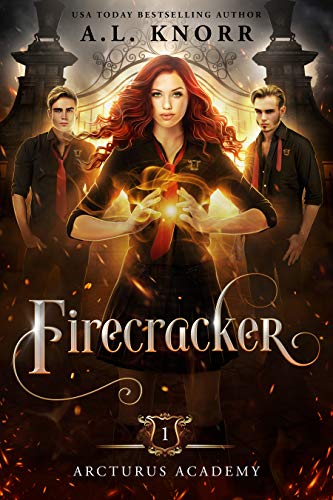 Firecracker: A Young Adult Fantasy (Arcturus Academy Book 1)
By A.L. Knorr
$3.99
(Please be sure to check book prices before buying as prices are subject to change)
Calibri;mso-fareast-theme-font:minor-latin;mso-bidi-theme-font:minor-bidi;
mso-ansi-language:EN-CA;mso-fareast-language:EN-US;mso-bidi-language:AR-SA">In
love with one twin, bonded by fire to the other. Welcome to Arcturus Academy.
98% of fire magi who attempt the agonizing forbidden ritual known as The
Burning don't survive. Those who do… level up in ways undreamt of by the
Unburned. I survived. Now I've got other problems. Headmaster Chaplin charges
me with tutoring struggling student April, but when a bully targets April, I
feel my control slipping. It doesn't help that he is my crush's evil twin,
who--for reasons no one can explain--I share a powerful mage-bond with. It
might be enough to push me into darkness. Will I emerge a hero or a fiend? Even
I cannot say. Preorder Firecracker and let the sparks fly! Arcturus Academy is
an action-adventure series of five books by a USA Today and Amazon best-selling
author. Saxony is a strong female heroine swept into a world of dizzying plot
twists, sweet romance and intriguing mythology, all woven against a backdrop of
elemental magic. Perfect for fans of Kelley Armstrong, Maria V Snyder, and
Shannon Mayer. If you like magical power plays, page-turning action, and the
high of first love, then you'll adore A.L. Knorr's explosive series.

Digital Books

Book Length: Long Novel – 320-650 Pages
More Books in this series from A.L. Knorr
Leave a review about Firecracker: A Young Adult Fantasy (Arcturus Academy Book 1). Login Now