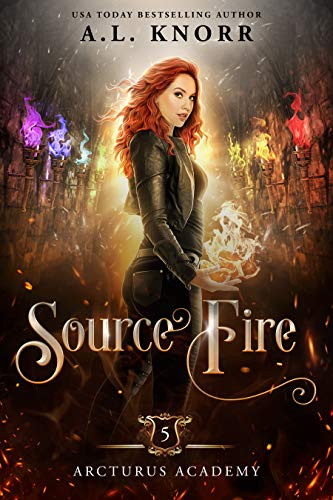 Source Fire
By A.L. Knorr
$4.99
(Please be sure to check book prices before buying as prices are subject to change)
Book 5 of the Arcturus Academy series.
Fires continue to go out, and Nero continues to get
stronger. Can the few Arcturus agents and students left solve the riddle of how
the two are connected before it's too late?
In a story that spans several continents, explores the origins
of the fire mages and has Saxony in ever-present danger, twists and turns
abound. Help comes from unlikely places, but so does trouble. The supernatural
community of fire mages face a decimation that is nothing short of genocide.
Will any be left standing? Or will the psychopath win the day? What, and who,
is Saxony willing to risk to stop the destruction of the species she has only
been part of for a year?




















The fifth and final book in the Arcturus Academy
series is a roller coaster of a ride, zipping you around unexpected twists and
turns, flipping you on your head at times, and culminating in an epic showdown.
What are you waiting for? Join the remaining fire mages in their fight for
survival.

Digital Books

ASIN:
B08X21329F
ISBN:
1989338348
Book Length: Novel – 150-320 Pages
More Books in this series from A.L. Knorr