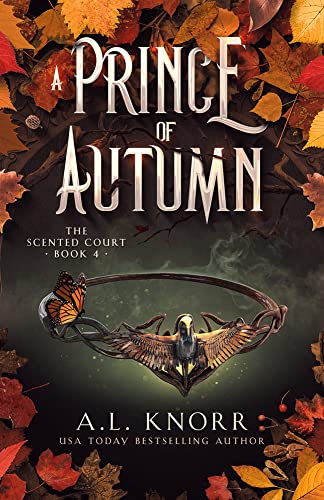 A Prince of Autumn: A YA Epic Fae Fantasy (The Scented Court Book 4)
By A.L. Knorr
$6.99
(Please be sure to check book prices before buying as prices are subject to change)
Bound by duty, united by destiny. Their journey will shape the fate of the fae.
Jessamine, Laec and Çifta will never be the same, but they still have a chance at happily ever afters.
One must lay to rest the lies of the past.
One must fulfil his commission in order to be with his love.
One must overcome the expectations of an entire kingdom.
And all depends on the actions of the rightful heir to the Rahamlar throne. Can the dark prince's plan be thwarted?
In a story with more twists than a coiled snake, A Prince of Autumn takes the reader on a roller coaster of emotion and action to a satisfying conclusion.
Welcome to the continent of Ivryndi, where flora and fauna magic reign, and an unseelie prince with a mysterious power threatens it all. If you love stories steeped in the beauty of nature, slow-burn romance, and endearing characters you'll never forget, enter the dreamy otherworld of The Scented Court. This series delivers an epic-length fantasy experience by an award-winning author.
Digital Books





ALKnorrBookshop
ASIN:
B0BRNXVNL3
ISBN:
1989338666
Book Length: Long Novel – 320-650 Pages
More Books in this series from A.L. Knorr
Leave a review about A Prince of Autumn: A YA Epic Fae Fantasy (The Scented Court Book 4). Login Now