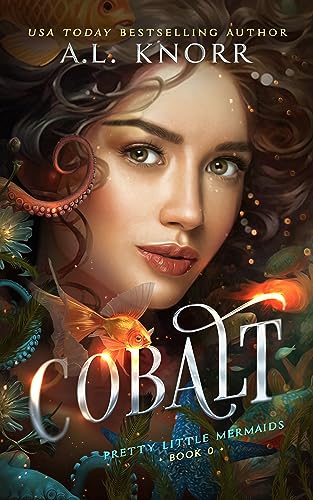 Cobalt: A Prequel Novella (Pretty Little Mermaids)
By A.L. Knorr
$2.99
(Please be sure to check book prices before buying as prices are subject to change)
A keen young freshman. A siren at a crossroads. A chance meeting that changes everything.
Gina is a mermaid—a siren—on her land cycle and she has found a human mate she loves. In fact, they're engaged, but to overcome a mysterious betrayal she isn't sure she should forgive, she needs some time at sea, ideally above it.
So she stows away on a tall ship.
Seth is a precocious fifteen-year-old working on a school project, researching Cobalt Girl, a modern sailing vessel.
A chance meeting and a fog bank along the Carolina coast will change both of their lives forever…
Return to the siren realm of A.L. Knorr with Cobalt, a novella-length prequel to a forthcoming series entitled Pretty Little Mermaids, which expands the lore and worlds established in Born of Water, Mermaid's Return and The Siren's Curse, but is set before the events of the latter. Pretty Little Mermaids will be a quadrilogy, not including Cobalt, but may include as many as 5 books.
Digital Books

Book Length: Novella – 60-150 Pages
More Books in this series from A.L. Knorr
Leave a review about Cobalt: A Prequel Novella (Pretty Little Mermaids). Login Now