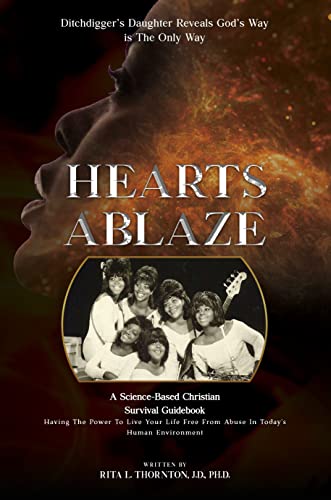 Hearts Ablaze: A Guide to Escaping and Healing from Abusive Relationships
By Lilly Zayla
$5.99
(Please be sure to check book prices before buying as prices are subject to change)
Kindle Your Journey to Healing and Freedom with "Hearts Ablaze" - In the powerful book "Hearts Ablaze," written by Dr. Rita Thornton, you'll embark on a transformative journey of self-discovery and healing from abusive relationships. If you've ever felt trapped or silenced in an emotionally abusive relationship, this guide is your beacon of hope.
Key Takeaways from "Hearts Ablaze"

Navigating the Path to Recovery:
In a world where the emotionally abusive relationship true story can shatter lives, "Hearts Ablaze" offers a beacon of hope and a roadmap to healing:

Acknowledging the Truth— The first step towards recovery is facing the truth about the abusive relationship you're in.

Empowering Resilience—Realize your inner strength as you learn to shed the scars of abuse and embrace a life filled with positivity.

Healing Spirituality—Reveal the profound connection between spiritual well-being and the journey to recovery.

Transformative Steps—Learn how to rebuild your life after an abusive relationship, creating a future defined by self-love and growth.

Wisdom from Experience— Dr. Rita Thornton, a survivor of abuse and a renowned figure in the music industry, shares her personal journey of healing.

Dr. Thornton's expertise as a Christian leader, professor, and abuse survivor infuses this guidebook with empathy and wisdom. Through her insights, you'll learn to identify the signs of abuse, find the courage to escape its clutches and rebuild your life on a foundation of strength and positivity.

Get Your Copy Today! Step into Your New Chapter of Empowerment

"Hearts Ablaze" is more than an abusive relationship recovery book—it's a lifeline for women seeking refuge from the shadows.

Experience the transformational journey as you find the courage, wisdom, and support to escape the clutches of abuse and step into a life ablaze with newfound freedom and strength.
Digital Books

Book Length: Novella – 60-150 Pages
More Books in this series from Lilly Zayla
Leave a review about Hearts Ablaze: A Guide to Escaping and Healing from Abusive Relationships. Login Now