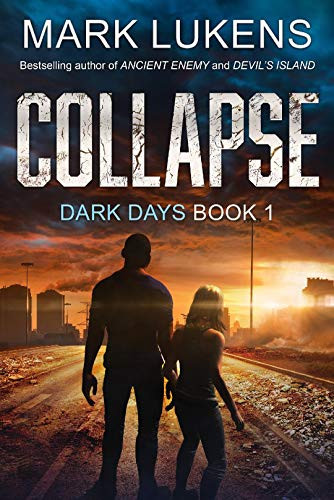 Collapse
By Mark Lukens
Free

$2.99

(Please be sure to check book prices before buying as prices are subject to change)

Deal Date: 02 Aug 2022

---
It started with rumors of a plague that turned people into flesh-eating predators. The governments of the world and the media tried to suppress it, but little by little the truth got out. The economy had been in a freefall, banks closed, protests turned into riots, people began hoarding and panicking, electricity and the water were shut off. And then, on a Friday morning, the collapse came.

After the government office where Ray Daniels works shuts down, he just wants to get back home to his wife and kids. On his arduous journey home, Ray gets a call from his supervisor, inviting him and his family to his home where the answers to the collapse and the Ripper Plague are waiting for him, but the phone call breaks up and Ray only hears the word Avalon.

Ray finally makes it home, but the infected, dubbed rippers by the news, prowl the streets and soldiers are shooting to kill. After a ripper breaks into their home and soldiers round people up, Ray has no choice but to flee with his family. The collapse is here, and Ray wants the answers that Craig has, but first he must keep his family alive.

Read More...
---
---


© 2022 CraveBooks. All rights reserved