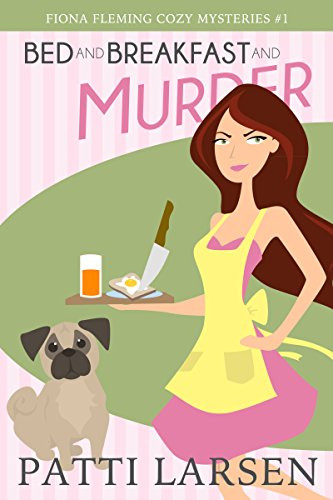 Bed and Breakfast and Murder
By Patti Larsen
Free

$0.99

(Please be sure to check book prices before buying as prices are subject to change)

---
PEACE AND QUIET CAN BE MURDER!

Fiona Fleming had hoped inheriting her grandmother's bed and breakfast and returning home to quiet Reading, VT would be a welcome escape from the city life in New York and her cheating ex-boyfriend. She figured the most excitement she'd face would be making beds, pesky customers and the awful stench coming from her grandmother's ornery pug, Petunia. Instead, she finds herself elbow-deep in clogged toilets, the town blackmailer floating belly-up in her fish pond and she's the prime suspect.

She's soon looking for answers in the seedy-side of the tiny town and winds up in dangers she never even faced in the city. While she is surrounded with help from the odd cast of characters in this bizarre town, she's not sure who she can trust. Her back-up, however, consists of her flighty yet fashionable childhood friend, her grandmothers nosy neighbor and her beloved father who seems to have secrets of his own. Then there's the buried treasure she can't figure out and how to get her mind off of how great the new sheriff's backside looks in his uniform.

Can Fiona uncover the truth before the handsome sheriff puts her behind bars instead of asking her out?

Book 1 in the Fiona Fleming Cozy Mystery series!
Can be read as a standalone but will be enjoyed more as part of the series.

A light, cozy mystery read with a reluctant dog loving female inn owner, in a small town setting with quirky characters.

*No cliffhanger!
*No swearing!
*No gore!
*No graphic scenes!

Read More...
---
---

© 2022 CraveBooks. All rights reserved