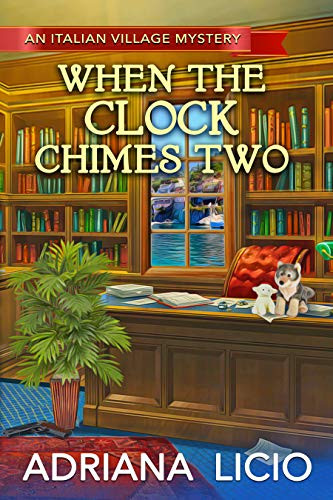 When the Clock Chimes Two
By Adriana Licio
$0.99

(Please be sure to check book prices before buying as prices are subject to change)

---
Zoe Zerbino, sobbing, downtrodden and taken for granted, discovers the power of a perfume to change her life for the better. That is, until she finds herself accused of murder.

Filled with newfound confidence, Zoe is enjoying the respect she is receiving all of a sudden from the inhabitants of the beautiful coastal village of Maratea in southern Italy. But just how far will her determination to take control of her life go? When she is discovered standing over the dead body of her bullying boss, the murder weapon in her hand, it looks as though it has gone way too far.
When the local carabinieri regard the case as solved, travel writer and part-time sleuth Giò Brando investigates further, disturbed by her sister Agnese's distress at having sold Zoe the scent that apparently transformed her into a killer. But it appears all the other suspects have watertight alibis for the time of the killing.
With her shrewd granny's words "A wolf is always a wolf, a lamb is always a lamb" echoing in her mind, Giò is sure that Zoe remains the gentlest of lambs. And then a chance remark in Leo's Bar leads her to the truth – a truly heartless plan was put into action as Maratea's clock struck two.
◆◆◆ Cosy mystery fans, synchronise your watches and grab yourself a cappuccino. It's time to help Giò investigate murder most horrid and make sure everyone gets what they deserve ◆◆◆
---
"When the Clock Chimes Two" is a short story in the heart warming and compelling "An Italian Village Mystery" series. Beloved by fans of Rhys Bowen, Agatha Christie, MC Beaton. 
Each book can be read as a standalone or enjoyed in sequence.
Book 0 (prequel) - And Then There Were Bones
Book 1 - Murder on The Road
Book 2 - A Fair Time for Death
Book 3 - A Mystery Before Christmas
Book 4 - Peril at the Pellicano Hotel
Read More...
---
---

© 2022 CraveBooks. All rights reserved