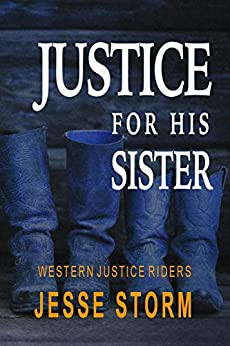 Justice for his Sister
By Jesse Storm
$0.99
(Please be sure to check book prices before buying as prices are subject to change)
In the dog-eat-dog world of cattle ranching, where there's no such thing
as honor among thieves and only the slyest survive, Grant Menzies must
undertake the greatest race of his life – to take revenge upon the men
who killed his sister and took everything from his family.

Sitting
in his high castle, ruling over his cattle empire, Monroe Croft knows
his power. Men have come for him before, and they've failed miserably.
What could he possibly have to fear from Grant and his three brothers,
when he already has a spy in their midst?

Try as they might to
bring him to justice, Monroe knows they will fall, as so many have done
before. They don't call him the "Cattle King" for nothing, and his reign
of terror has only just begun.

Outgunned and outnumbered, Grant knows he might not make it out of this alive, as he can't turn back now…

But
when Anna Croft is thrown into his life, burned by the same men who
took so much from him, will he be able to put his vengeance aside for
her sake?

When the moment comes, will he be able to protect her from those who seek to use her as a pawn in their game?
Digital Books

Book Length: Long Novel – 320-650 Pages
More Books in this series from Jesse Storm
Leave a review about Justice for his Sister. Login Now