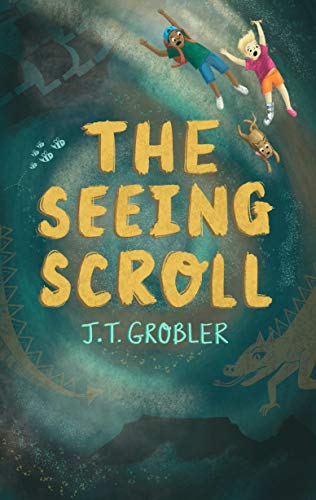 $3.99

(Please be sure to check book prices before buying as prices are subject to change)

---
A kids fantasy for clever sleuths.
If you found something that didn't belong to you, would you keep it? What if you discovered that folks preferred it to remain lost?
When police exhume the body in her grandfather's coffin, 12-year-old Gia Lance already knows that it isn't him. And given that her dad won't believe her, what choice does she have but to enlist the help of her drama-king best friend? Their search for her grandfather leads to the discovery of a curious riddle, a secret plateau and a hidden scroll which reeks of danger. It's enchantment lures them by exposing visions – fragments of well-kept secrets.
Gia soon grapples with an eerie tale of a dungeon, an ill-fated ship, and the legendary curse of the Seeing Scroll. But whose secrets are they? How does the scroll decide what she sees? Who can she trust? More importantly, what does it any of it have to do with her grandfather?
For Gia to connect the dots, she must confront the idea of her grandfather not being who she thought he was. But time is running out. There are people after the scroll. Dangerous people! Clearly, they'll do anything to ensure their secrets remain buried. Maybe even their crimes. Can Gia evade them on her quest to solve the riddle and figure out what happened to her grandfather without being duped by the scroll's delicious secrets, or will he be forever lost?
Read More...
---
---


© 2022 Crave Books. All rights reserved