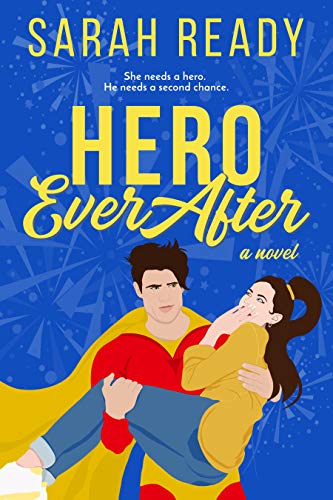 $5.99

(Please be sure to check book prices before buying as prices are subject to change)

---
The Perfect Rom Com Book for fans of Get A Life, Chloe Brown by Talia Hibbert, Fix Her Up by Tessa Bailey, and The Hating Game.
"If you're looking for a book that tickles your funny bone and tugs on your heart strings in the most exquisite way, this charming, witty story full of all the feels is your next amazing read!" from BookAddict
She needs a hero. He needs a second chance.
Single mom Ginny Weaver needs a hero. Not an average hero. Not an everyday hero. A full-fledge, honest to goodness, super-duper A-list movie star, comic book action hero.
And she'll do anything to get one.
Liam Stone is a washed-up, has-been, former Hollywood superhero – now dubbed "the super zero".
He isn't what Ginny needs.
But Ginny's six year old daughter is sick and she has one last wish…
So, Ginny and Liam make a deal. Ginny will get a cape-wearing superhero for her daughter and Liam will get his chance at redemption.
But deals come with unexpected consequences, like questioning what really makes a hero, or a family, and whether or not love has anything to do with it.
Maybe, just maybe…love makes heroes of us all.
Hero Ever After is a feel good, heart-warming contemporary romance about the power of hope, family and love. And a happily ever after of course!
What readers have said about Hero Ever After:
"hands down one of my favourite authors…I love this book! Would give more than 5 stars if I could!"
"This book brought me to tears! I loved everything about the book, the characters, plot everything! A book that you do not want to miss!"
"Hero Ever After is a feel good, happily ever after, romance read. I can't even begin to tell you how much I adored this book."
"WILL make a great movie."
"This is probably the easiest 5 stars review I have ever given. This book was the complete package for me, I laughed, I cried and I loved, right along side the main characters...I can't remember the last time a book moved me so profoundly."
"The writing, the plot, the cover, the characters, the plot, the superheros, and the general belief that superheros exist in any form and any person can be one is ALLL SO BLOODY AWESOME!"
"I have to say this was one of the most delightful rom-coms I have read."
"If you haven't read a Sarah Ready book you must. She writes with such grace and the story seems effortless. I simply loved this book and can not wait to read more from her!"
"This book was definitely worth the read. I was hooked from the very beginning and I couldn't put it down."
"This book is so worth the read because it's a make you feel good story along with an uplifting one. I just gobbled up the pages."
Read More...
---
---

© 2023 CraveBooks. All rights reserved