The Dragon's Wing Enigma (Arkana Archaeology Mystery Thriller Series Book 3)
The Dragon's Wing Enigma (Arkana Archaeology Mystery Thriller Series Book 3)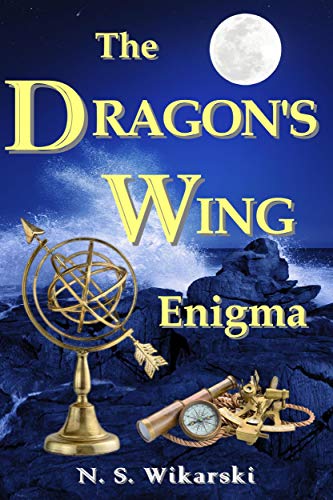 The Dragon's Wing Enigma (Arkana Archaeology Mystery Thriller Series Book 3)
$2.99

(Please be sure to check book prices before buying as prices are subject to change)

---
Award-Nominated Series Finale. Best Mystery of the Month (L.A.S. Reviews, February 2017)
For Fans of Archaeology Adventure, Alternative History Thrillers, and Treasure Hunt Mysteries
THE ARKANA SERIES
College freshman Cassie Forsythe wakes from a disturbing nightmare after seeing her sister being murdered by a man in a cowboy hat who demands something called the key. Her dream morphs into frightening reality when her sister is found dead, exactly as her vision foretold.

Cassie's life takes an even more bizarre turn once she learns that her dead sister, an antique dealer, has discovered the location of a cache of priceless Minoan artifacts. A secret society called the Arkana and a fanatical religious cult known as the Blessed Nephilim are each determined to claim the prize.

Caught squarely between these rival factions is Cassie herself after she stumbles across the only known map to the treasure. The girl allies herself with the Arkana in hopes of staying alive. With Nephilim assassins on her trail, that's easier said than done.

Volume 3 - The Dragon's Wing Enigma
In THE DRAGON'S WING ENIGMA, agents of the Arkana and the Nephilim leave no stone unturned on the island of Malta in their search for lost artifacts. The Arkana team frantically scavenges for clues among the ruined temples of the archipelago before their foes arrive to comb the same terrain.

A new crisis erupts on the home front when a runaway bride seeks refuge with the Arkana. The girl is the youngest wife of the Nephilim's polygamous leader, and she may have accidentally led the Nephilim straight to the Arkana's cache of matristic artifacts.

Matters come to a head in an isolated mountaintop cave when the relic hunters learn that their prize can only be discovered if they keep true to the dragon's wing. With Nephilim operatives blocking their escape route, will they live long enough to solve the riddle? Will the Nephilim recapture their leader's wife and breach the defenses of the Arkana itself? More than treasure is at stake this time around.

Read More...
---
Audiobooks
---
---
Leave a review about The Dragon's Wing Enigma (Arkana Archaeology Mystery Thriller Series Book 3).
Login Now

© 2022 CraveBooks. All rights reserved