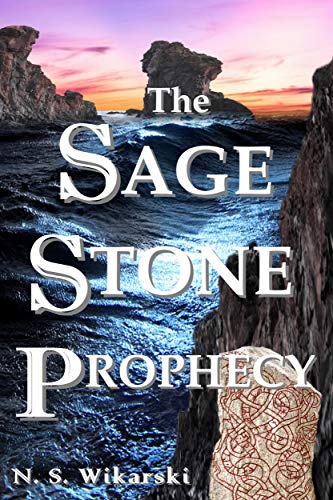 The Sage Stone Prophecy (Arkana Archaeology Adventures Book 7)
$2.99

(Please be sure to check book prices before buying as prices are subject to change)

---
Award-Nominated Series Finale as Best Mystery of the Month.
For Fans of Archaeology Adventure, Alternative History Thrillers, and Treasure Hunt Mysteries
THE ARKANA SERIES
College freshman Cassie Forsythe wakes from a disturbing nightmare after seeing her sister being murdered by a man in a cowboy hat who demands something called "the key." Her dream morphs into frightening reality when her sister is found dead, exactly as her vision foretold.

Cassie's life takes an even more bizarre turn once she learns that her dead sister, an antique dealer, has discovered the location of a cache of priceless Minoan artifacts. A secret society called the Arkana and a fanatical religious cult known as the Blessed Nephilim are each determined to claim the prize.

Caught squarely between these rival factions is Cassie herself after she stumbles across the only known map to the treasure. The girl allies herself with the Arkana in hopes of staying alive. With Nephilim assassins on her trail, that's easier said than done.

Volume 7 - The Sage Stone Prophecy
In the series finale, the Nephilim and the Arkana scour the farthest reaches of the planet for the hiding place of the legendary relic known as the Sage Stone. At the same time, mortal danger threatens friends and foes alike as the cult's leader pushes humanity to the brink of extinction.

The fate of the world hinges on the outcome of a final confrontation with both factions pinning all their hopes on a prophecy that might not mean exactly what it says. If you've followed this saga from the beginning, THE SAGE STONE PROPHECY reveals at long last who will claim the most sought-after relic of all and how many others will lose their lives trying.

Read More...
---
Audiobooks
---
---

© 2022 CraveBooks. All rights reserved