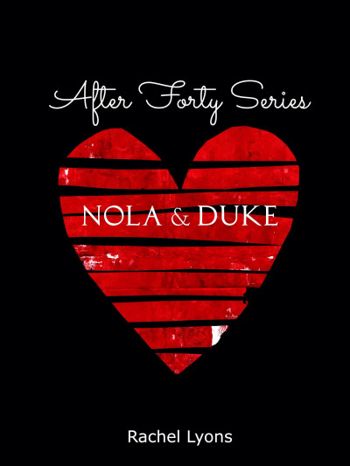 Nola & Duke (After Forty)
$0.99

(Please be sure to check book prices before buying as prices are subject to change)

---
Edited 7/2020

Nola

Nola is divorced, and she just turned forty. She is very family-oriented and wanted to have a family of her own, but the universe had other plans for her. She moves back to the town where she was raised to help her sister take care of their mother, who was diagnosed with Alzheimer's. Nola hopes for a family of her own, but it looks like it's not in the cards, but she is still hoping to find love. Nola treats herself to a night at a five-star restaurant and hotel. She is looking to find someone to have a one-night stand with because it's been years since she has had any attention from a man. That night at the hotel, she meets Duke.

Duke

Duke is all about work. He's very focused, and a set of rules drive his life. He isn't looking for love or commitment. Duke is only interested in arrangements with career-driven women who are as busy as him. He wants casual and easy because his career comes first. Duke meets Nola at the hotel he has just purchased and is taken by surprise. He breaks his strict rules and enjoys a night with her, and he wants more. He is interested in a casual arrangement with Nola. Nola tries but discovers she isn't built that way. She wants the whole package. When Duke realizes that he could lose Nola, he decides to give a relationship a try.

They have their ups and downs. Will they live happily ever after?

Read More...
---
---


© 2022 CraveBooks. All rights reserved