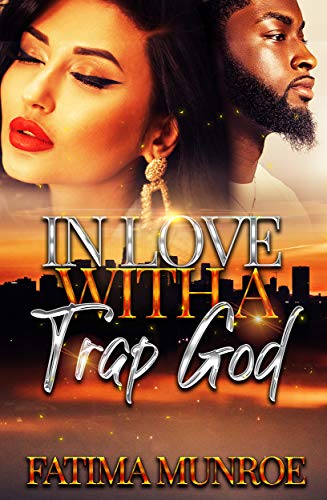 In Love With A Trap God
$3.99
(Please be sure to check book prices before buying as prices are subject to change)
Bad
lil' thang, fine as hell. If you got a man, let him know I'm coming for him.
And if you don't, you belong to me now – Atif
Known on the streets of the Chi as God, Atif had no
interest in being with one woman and one woman only. With his reputation as judge, jury and
executioner wrapped into one, being in love has no place in his chosen line of
work. Bumping into Kapri twice in one day was more than a coincidence, he had
to know more about the exotic beauty whose eyes told the story of love and
pain.
You
should know not to mess with me, I'll break your heart, baby – Kapri
Chicago's wild, wild west side was known for fist fights
and shootouts. Kapri grew up as a product of her environment determined not to
stay that way. Little did anyone know she was keeping a dark secret that no one
would understand if it ever got out.
When
I found out my husband cheated on me I was determined to get back at him –
Tanjalyn
Tanjalyn had her own cross to bear stuck in a loveless
marriage. Steve grounded her and provided her with stability while her heart
begged to be with Prince, God's ace. When Steve receives yet another
commendation and promotion as an officer in the Navy, naturally he wants his
family back together.
The
fact that she was married was the ONLY thing stopping me from putting her name
on the deed to this house and the bank accounts – Prince
One date with Tanjalyn turned into a baby and a potentially
messy situation for the city's second in command. Prince treated women as
disposable until he was thrown into fatherhood. Only problem is: his only
daughter calls another man daddy.
My name gonna be bigger than yours ever
was – Dash
Growing up in the next man's shadow was bad enough,
but when the man was Chicago's most feared and respected trap king, Dash had to
work that much harder to prove himself a worthy opponent. When he bumped into
Kapri one day in class, little did he know she was the key to his independence.
Once he found out who she was, getting closer to the brown skinned beauty quickly
turned into a matter of life or death…
Heavy is the head that wears the crown. Falling in
love with a trap king was never the goal, but the attraction was undeniable
from the start. Will these women live through it? Or will the pressure be too
much?
Subscribe for updates: www.monreauxpublications.com
Digital Books

Book Length: Novel – 150-320 Pages
Leave a review about In Love With A Trap God. Login Now