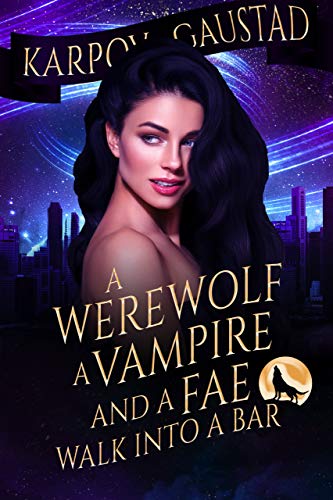 A Werewolf, A Vampire, and A Fae Walk Into A Bar (The Last Witch Book 1)
$4.99
(Please be sure to check book prices before buying as prices are subject to change)
I lived a pretty ordinary life—a kid raised in my family's bar who went off to college to escape the small-town life. But when my grandfather died and I returned to take over the family business, I discovered a much more extraordinary world waiting for me.

Vampires, werewolves and fae are real.

And they want my baby.

My daughter is meant to fulfill some crazy prophecy related to the end of all magical creatures, but I'm having none of that. Now, since I can't get rid of them, the three Sexies who walked into my bar that fateful, stormy night, work for me.

They can change diapers and serve drinks while I get a handle on not only being a new single mom, but also the center of a race war between creatures I previously believed were myths.

I didn't expect any of this. Not the Sexies. Not the single motherhood. And certainly not the chemistry I feel with each of them.

But we don't have time for raging postpartum hormones. Because they aren't the only ones after my child, and keeping her safe is proving a more dangerous job than the What to Expect Books ever prepared me for.

For fans of A Shade of Vampire, Vampire Girl, Don't Rush Me, The Lost and the Chosen, Hunted, Hidden Kingdom Trilogy, and All the Pretty Monsters. From USA Today bestselling author Karpov Kinrade and Evan Gaustad, experience a fantasy romance that will suck you in and leave you wanting more!

Digital Books




Book Length: Long Novel – 320-650 Pages
Leave a review about A Werewolf, A Vampire, and A Fae Walk Into A Bar (The Last Witch Book 1). Login Now