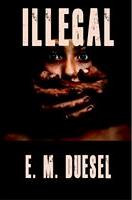 Illegal
By E. M. Duesel
$-1
(Please be sure to check book prices before buying as prices are subject to change)
Twelve year old Rush Pena is kidnapped by a hate group
called the Alliance, where he witnesses the murders of three immigrant
children. He escapes and through his
testimony the murderers are brought to justice, but not without Rush and his
family becoming the target of every hate group in the United States for the
next six years.
The situation escalates when killings hit too close to home
and the whole Pena family is dragged into suspense and intrigue. They, along
with their friends form undercover investigations to root out the Alliance.
During their investigation, they discover that the Alliance and a black hate
group are working together to kidnap girls and sell them to the Mexican cartels. Kidnapping, murder and rescues abound and as
Rush must leave for his freshman year at Harvard, he discovers that hatred is
not just limited to the Border States.
Digital Books

Book Length: Novel – 150-320 Pages