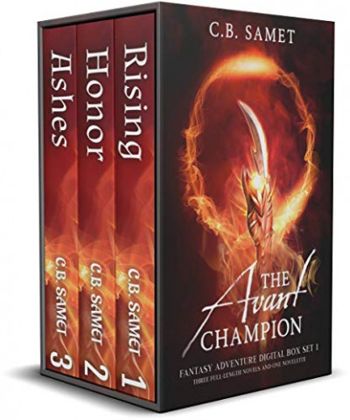 The Avant Champion (Fantasy Adventure Digital Box Set 1)
$9.99

(Please be sure to check book prices before buying as prices are subject to change)

---
THREE FULL-LENGTH NOVELS AND ONE NOVELETTE
Magic and mayhem collide in this fantasy adventure.
The digital box set includes three full-length novels and one bonus novelette.
Every millennia, an Avant Champion must contain an ancient evil. But Abigail's quests don't stop there. Follow her as she battles scheming giants, a deadly plague, and invading soldiers on journeys of love, loss, and self-discovery.
Contents:
The Avant Champion: Rising
The Avant Champion: Honor
Malakai (prequel novelette)
The Avant Champion: Ashes
Praise for The Avant Champion:
~Rising~

2017 EVVY Award-winner
"I loved this a great classic style fantasy, action, adventure, a bit of romance, great characters. A thoroughly enjoyable read …" -- Tara K (NetGalley Reviewer 2019, Five Stars)
"With active scenes, sympathetic characters, and hooks throughout the story, you can count on being rooted to one spot until the last word is read." --Judge, 25th Annual Writer's Digest Self-Published Book Awards
" ... a solid fantasy from Samet." --Readers' Favorite Reviewer (2018)
~Honor~

"The author wields a fantastical tale around the heroine that is both engaging and riveting" —Amazon Reviewer
"I like this storyline filled with action-packed scenes and challenges with quite bit of suspense and tender moments as the story begins to unfurl with twists that grips the reader." --Booksprout Reviewer (five stars)
"Definitely a page-turner.... Samet has created quite an abstract, yet easy to visualize because of her illustrative writing, new magical world that also seems so real.... The plot is intriguing and well-organized, with the perfect ending that left me wanting more." — Amazon Reviewer
~Ashes~
"I was blown away, as always. Although epic fantasy, I could relate to the main character in a way that I usually can't. A mother, a hero, a teacher; she is more than anyone person can handle gracefully and yet she rises above everything. Even at the cost of her own happiness. Exciting, intriguing, heartbreaking. The best in the series so far. I only hope there is more yet to come!" —Author H.M. Gooden
Read More...
---
---


© 2022 CraveBooks. All rights reserved