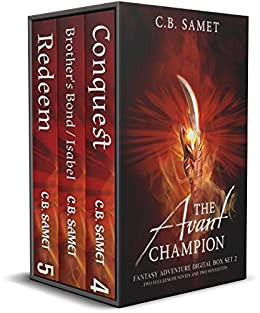 The Avant Champion (Fantasy Adventure Digital Box Set 2)
By CB Samet
$9.99
(Please be sure to check book prices before buying as prices are subject to change)
TWO FULL-LENGTH NOVELS AND TWO NOVELETTES
The gripping conclusions to Abigail Cross's fantasy adventure.
The digital box set includes two full-length novels and two bonus novelettes.
Every millennia, an Avant Champion must contain an ancient evil. But Abigail's quests don't stop there. Follow her as she battles scheming giants, a deadly plague, and invading soldiers on journeys of love, loss, and self-discovery.
Contents:
Brother's Bond (interim novelette)
The Avant Champion: Conquest
Isabel (prequel novelette)
The Avant Champion: Redeem
~Conquest~
"Riveting story that sees the Avant champion accompany the queen, and efforts to save the kingdom that echo in unexpected ways." —Booksprout Reviewer
"Exhilarating ride! When Abigail loses her abilities at the hands of the evil king of Bellos who is intent on subjugating all of Crithos under his thumb, I had no idea how she was going to save the day. But once again, the author has cast her magic and after death-defying turns at every corner, this book delivers a most satisfying ending." —Author H.M. Gooden

~Redeem~
"This is full of magic, suspense, and a story that will you have unable to put the book down. I was sucked in and fell in love with the characters and the story!" —Bookbub Reviewer
Digital Books






Book Length: Epic Novel – 650+ Pages
More Books in this series from CB Samet
Leave a review about The Avant Champion (Fantasy Adventure Digital Box Set 2). Login Now