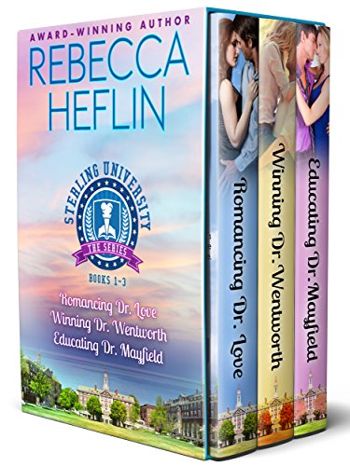 The Sterling University Series: Complete 3-Novella Box Set
$4.99
(Please be sure to check book prices before buying as prices are subject to change)
Samantha, Shelby, and Delaney are experts in their fields—but how much do they know about love? Three college professors learn passionate lessons in this boxed set of romances. 

Romancing Dr. Love, Book One

She says it's all about the chemistry. He says it's all about the romance. Samantha Love has based her entire academic career on the hypothesis that love is simply a chemical reaction. Ethan Quinn thinks she's taken love and all its mysteries and reduced it to something as romantic as a cholesterol test, and he sets out to prove her theory wrong. Is it chemistry or romance? Or a little of both?

Winning Dr. Wentworth, Book Two

She's benched her heart. His is on injured reserve. Burned-out and broken-hearted math professor Shelby Wentworth returns to her hometown determined to escape the disgrace of a nasty divorce, shake off the taint of her ruined career, and start over, sans romance, but an unexpected reunion with Nash Taylor, former star quarterback and high school crush, promises to derail her plans. Will Shelby let the past dictate the future, or will Nash win her heart?

Educating Dr. Mayfield, Book Three

He has plenty to learn about love. She's just the woman who can teach him. Creative writing professor Delaney Driscoll finds her plan to establish a new degree program blocked when Devon Mayfield, the uptight new college dean opposes her request. While she educates him on the benefits of the curriculum, can she make him forget the pain of his past and teach him that love is more than a just four-letter word?

Digital Books




Book Length: Long Novel – 320-650 Pages
More Books in this series from Rebecca Heflin
Leave a review about The Sterling University Series: Complete 3-Novella Box Set. Login Now