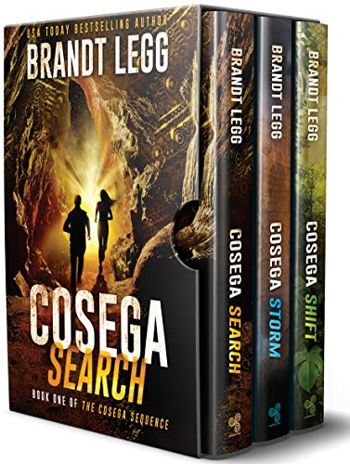 The Cosega Sequence - Books 1-3: An Archaeological TechnoThriller
By Brandt Legg
Free

$7.99

(Please be sure to check book prices before buying as prices are subject to change)

---
The only thing bigger than his discovery
is the conspiracy to stop it!

Will he unlock the secrets in time?

Ripley Gaines, a brilliant archeologist, with an insane theory, has risked his life searching for an extraordinary artifact. What he finds is beyond imagining.

It must be suppressed.

The discovery unleashes a mystery older than recorded time, rewrites human history, and promises to change the planet's future.

The most powerful forces in the world align against him.

Who can he trust?

A deadly competition for the artifact ensues. Capturing Gaines is not enough--everyone who has seen it must be killed.

Can he stay alive long enough to decode the Cosega Sequence?

Dig far enough into the past, you may just discover the future.
Click now to join the adventure and find out why a million copies of Brandt Legg's books have been sold/downloaded worldwide. The USA Today bestselling author of The Last Librarian.

Praise for the Cosega Sequence

"If Baldacci and Brown collaborated on an Indiana Jones mystery, this might be the finished result." ★★★★★ -Amazon Reviewer

"Indiana Jones meets Jason Bourne in this thrilling white-knuckle adventure!" -BookBub

"X-Files meets Da Vinci Code on the way to Tom Clancy's House." ★★★★★ -Amazon Reviewer

"Very highly recommended to the attention of dedicated science fiction fans . . . " -Midwest Book Review

"Fans of James Rollins, Dan Brown, Clive Cussler, Wilbur Smith, and Ernest Demsey are going to love Cosega!" ★★★★★ -Amazon Reviewer
Read More...
---
---

© 2022 CraveBooks. All rights reserved