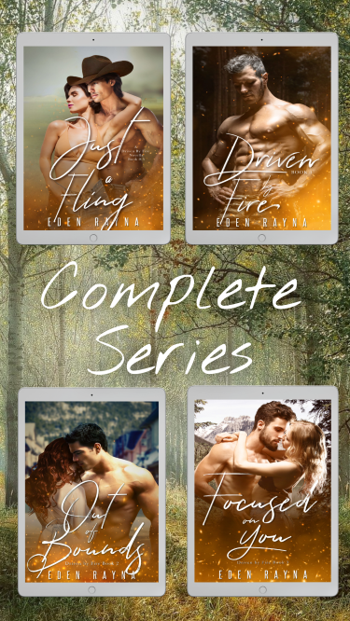 $6.99

(Please be sure to check book prices before buying as prices are subject to change)

---
Hot and Steamy with a Side of Sweet
From the remote oil fields of Northern Canada to the striking Rocky Mountains, this complete series of happily ever after novels will leave you breathless.

DRIVEN BY FIRE, a scorned in love romance
Piper's life has become a cliché. She stands at a literal crossroads—behind her is the driveway back to her cheating boyfriend, her cramped trailer home and a dismal future. In front of her is the highway leading to the Northwest Territories in one direction and a one-street oil town in the other. When a truck driver offers her a ride into town, she wonders if seeking out a better life was worth the risk.

JUST A FLING, a one-night stand romance
All Danielle wanted was one night with the cowboy. One night of fun to distract her from the quiet life she leads in a remote oil town. How she ended up eating breakfast with the cowboy and making plans to spend the day together was beyond her. That went against all the rules of a one-night stand.

OUT OF BOUNDS, a second chance romance
Bobby wishes she could look at Luca and see that things are different from when they were on Canada's Olympic Ski Team. That he isn't the same person who spent every waking hour with her, training, studying and being a teenager in love. She wishes she could introduce herself to him and start from the beginning; pretend as if they don't have a shared tragic history that tore them apart in a way that can never be fixed.

FOCUSED ON YOU, a slow burn romance
Jules is determined to make Badger, the new owner of the Wild Side Art Gallery, like her. Everyone likes her. Badger seems to have missed the memo on her widespread appeal. He painted the chalk outline of her body in red flags the first time they met, calling their friendship dead before he gave it a chance. Jules resolves to make him re-evaluate their relationship and plies him with reasons to relax around her. The more he accepts, the more curious she becomes about this man who's made her small Rocky Mountain town his home. And she's not the only curious one. Badger's determined to fake being her friend until he knows exactly what she's playing at. Until it's him playing games and it's more than friendship on the line.

Ready to immerse yourself in some steamy romance?
Read More...
---
ASIN: B08NW717FM
ISBN: 978-1-9990874-9-4
---

© 2022 CraveBooks. All rights reserved