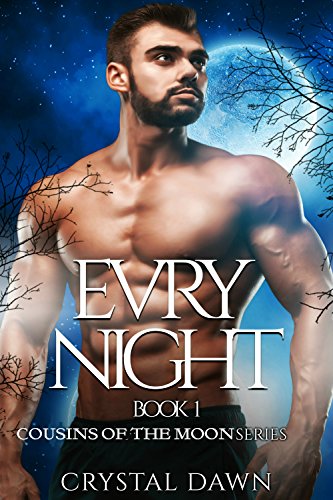 Evry Night: A Werewolf and Vampire Romance (Cousins of the Moon Book 1)
By Crystal Dawn
$2.99
(Please be sure to check book prices before buying as prices are subject to change)

Simon, a vampire, has been protecting Roc, an unchanged white wolf, from
rogue groups of wolves. When Roc's Aunt Daisy dies, they must go to the
funeral. Now they are aware that rogues and wolves aren't the only
danger they face. The funeral brings attention to them and Roc has
secrets Simon wants her to hide. If they can outwit and outfight their
enemies, they just might have a chance to claim the love they should
have had when they first met. One wrong move and Roc could be claimed by
another or Simon could die. Is it true that love will conquer all or
will love lost bring them eternal misery?
Digital Books




Book Length: Novel – 150-320 Pages
Leave a review about Evry Night: A Werewolf and Vampire Romance (Cousins of the Moon Book 1). Login Now