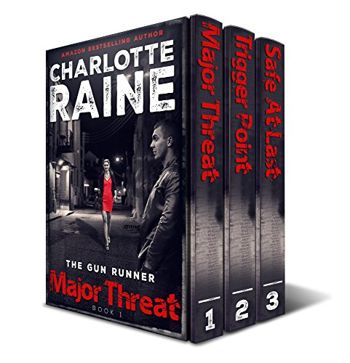 The Gun Runner: Box Set Complete Series
$4.99

(Please be sure to check book prices before buying as prices are subject to change)

---
This complete box set contains all three books below.

MAJOR THREAT - Book 1

Avery Yakushev, an illegal arms dealer, has built a comfortable life selling guns and making a nice profit from his city's cyclic need of violence and protection. When he learns another arms dealer is stealing his clients, he discovers his competition has a significant advantage over him.

Now, with the threat of losing his business and a new love interest in his life, Avery has to jump into the cycle of violence and protection in order to save what he cares about.

TRIGGER POINT - Book 2

Avery Yakushev, an illegal arms dealer, is being tracked by rival dealer Atticus Devetzi, who also happens to be a detective at the local police department. When Devetzi decides Avery is a threat to him, Devetzi uses his position as apolice officer to cause Avery more trouble than he can deal with.

Now, with Avery's new love interest, Shannon, also in danger and the threat of a dirty cop looming over him, Avery must do anything it takes just to survive.

SAFE AT LAST - Book3

Avery Yakushev, an illegal arms dealer, has led a simple life of selling guns for the right price. When he encounters Shannon, a beautiful medical student, and Atticus Devetzi, his life becomes significantly more complicated, which leads to the chief of police's dead body in Shannon's apartment. Now, with the threat of the Camden Police and Atticus Devetzi closing in on him, Avery must give up everything in order to save the only thing that matters—Shannon.

Read More...
---
---


© 2022 Crave Books. All rights reserved