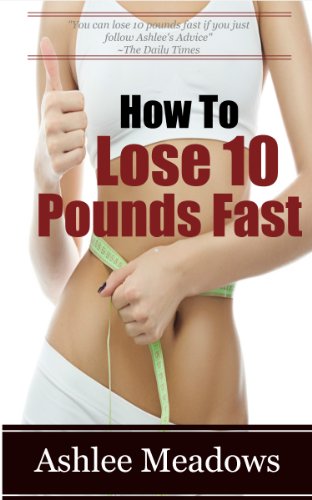 How To Lose 10 Pounds Fast: Fast And Simple Ways To Lose Weight And Change Your Life Forever
$2.99
(Please be sure to check book prices before buying as prices are subject to change)
Since you are reading this, you likely have realized you need to change something about your body. Chances are you have heard these claims:

"10 Pounds in 10 Days, Guaranteed"

"Drop a Pant Size in a Week!"

"Lose 10 Pounds with Celebrity Diet Secret!"

When you see ads like these, they often leave you with a question in your mind. Are they legitimate, or is there some type of catch?

Can you really lose weight quickly, and if you can, can you keep it off?

These are excellent questions, and ones you should take the time to answer before jumping in to any diet program.

When you see ads that promise you fast weight loss, often you are looking at fad diets that take too many nutrients out of the body. Unfortunately, while these diets will lead to quick weight loss, they leave the body void of important nutrients and make it impossible to keep the weight off. Once you stop dieting, the weight comes back on, often very quickly.

While this sounds like bad news, there is actually good news about weight loss. You can lose weight quickly, as quickly as 10 pounds in 10 days, with the right plan.

By making changes in a healthy way, you will set yourself up to maintain your results.

This should be your goal, so why not start off on the path to success in the first place?

Download Ashlee's Book Now And Change Your Life Forever.

Digital Books

Book Length: Short Story – 0-60 Pages
More Books in this series from Ashlee Meadows
Leave a review about How To Lose 10 Pounds Fast: Fast And Simple Ways To Lose Weight And Change Your Life Forever. Login Now